Gold has had a textbook rally following the tumultuous week in the U.S. banking sector and heavy drops in Fed hike expectations as recession risks loom.
On Friday, gold surged 2% beyond $1,950/oz levels, putting it on track for a 6% weekly gain, its largest since early November 2022.
The precious metal is regarded as the premier safe haven asset in this current market climate since it does not carry any default concerns, has continuously maintained its value through periods of persistent inflation, and generally climbs during times of economic slowdown and recession.
Next: 'Rich Dad, Poor Dad' Author Says You Should Invest In These Two Assets Amid Silicon Valley Bank's Collapse
Gold is very sensitive to rate movements because higher interest rates raise the opportunity cost of investing in non-yielding assets like gold, and vice versa. A weaker dollar, lower Treasury yields, and a collapse in expectations for the Fed's rate hikes are all contributing to gold's bullish momentum.
Fed swaps now price in a 19 basis point hike in March, with the terminal rate forecast to reach 4.9% in May and then fall from there. 
Overall, there are three 25-basis-point rate cuts priced until December 2023. 
Short-term two-year Treasury yields fell by more than 40 basis points this week, the largest drop since October 1987's Black Monday.
Gold technical analysis: Bull flag pattern in place
Gold price daily timeframe - Chart: TradingView
Gold prices broke through a multi-resistance zone this week, which included the 50-day moving average, the psychological $1,900/oz level, and the 61.8% Fibonacci retracement level of the high-to-low range from 2022. 
After the breakout of the flag channel, we can observe the emergence of a bullish flag pattern on the price chart, which may presage an extension of the current rally. 
The next resistance level is between 1,975 and 1,980, which corresponds to the 2023 price high as well as the 78.6% Fibonacci level. 
Breaking through this barrier will boost the bull's momentum and improve the chances of an assault on the psychological 2,000 mark.
3 Gold ETFs to Watch: GLD, GDX, GDXJ
SPDR Gold Trust ETF NYSE:GLD, VanEck Vectors Gold Miners ETF NYSE:GDX and Junior Gold Miners VanEck Vectors ETF NYSE:GDX GDXJ are three ETFs to watch for investors looking to profit on gold's rally. 
1) GLD
SPDR Gold Trust ETF NYSE:GLD is an exchange-traded fund managed by World Gold Trust Services, LLC that invests in gold bullions and is linked to physical gold performance. 
As a result, its price moves in lockstep with the commodity, and it does not pay dividends. 
GLD saw its highest weekly net inflow in almost a year in the week ended March 16, totalling $709.5 million.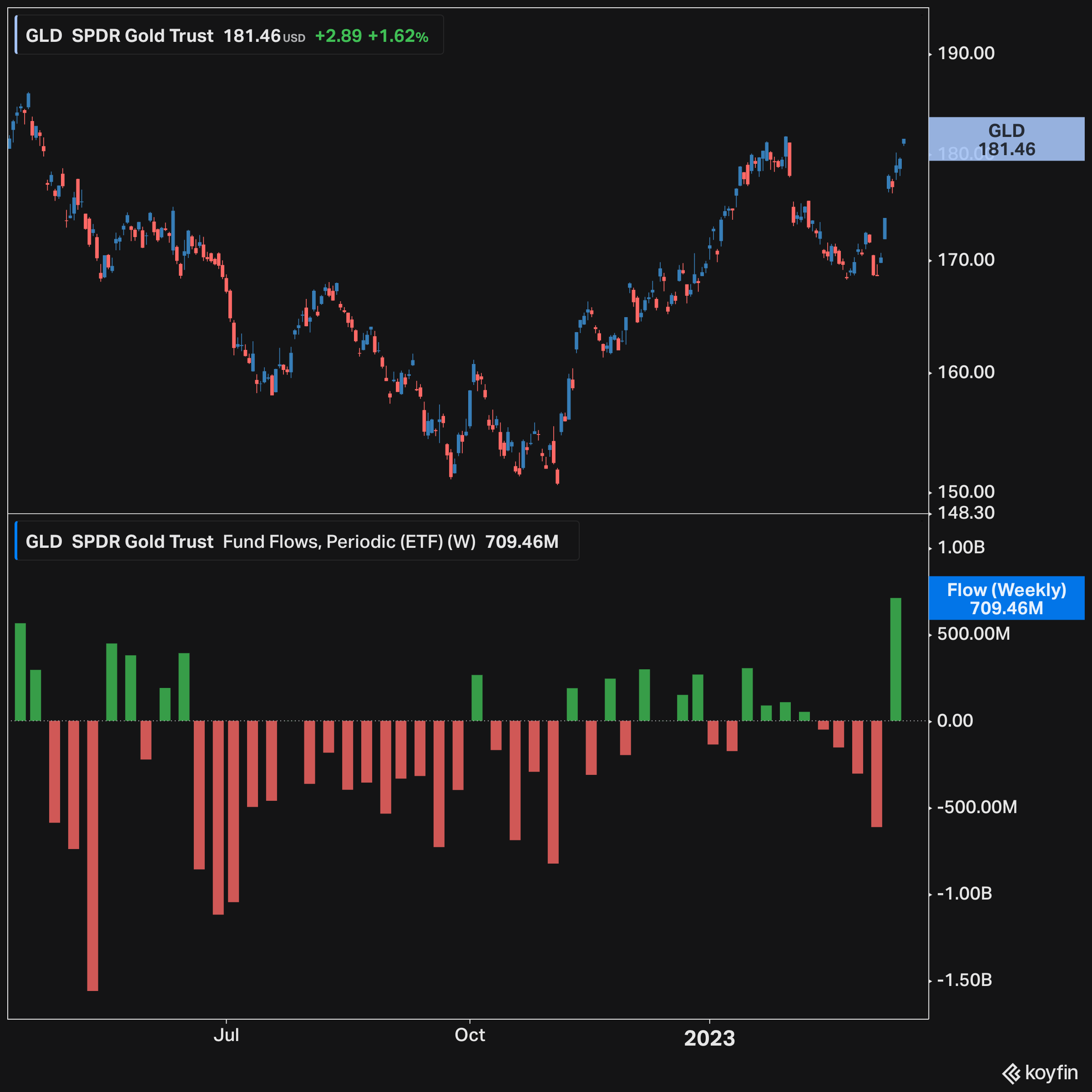 GLD price chart and weekly ETF flows - Chart: Koyfin
2) GDX
The VanEck Vectors Gold Miners ETF NYSE:GDX is an exchange-traded fund that invests in the stocks of companies in the gold mining industry. It tracks the NYSE Arca Gold Miners Index's performance through a complete replication. Dividends are paid once a year, and the current dividend yield is 1.6%. 
GDX's major holdings include Newmont Corporation NYSE:NEM, Barrick Gold Corporation NYSE:GOLD, Franco-Nevada Corporation NYSE:FNV, Agnico Eagle Mines Limited NYSE:EAM. 
In the week ending March 16, GDX received $52 million in weekly net inflows, after around $240 million in outflows the previous week.
GDX price chart and weekly ETF flows - Chart: Koyfin
3) GDXJ
The VanEck Vectors Junior Gold Miners NYSE:GDX is an exchange-traded fund that invests in stocks of companies involved in the gold mining industry. Differently from GDX, the majority of these companies are still in the development and exploratory phases and are seeking for land with a high potential for significant mineral deposits. 
Junior gold miners are thus more volatile than already productive gold miners, which is why GDXJ has a greater volatility than GDX. 
GDXJ's top holdings include Kinross Gold Corporation NYSE:KGC, Yamana Gold Inc. NYSE:AUY, Alamos Gold Inc. NYSE:AGI, and Pan American Silver Corp. NYSE:PAAS. 
The last week's ETF flow data is missing, but GDXJ had $24 million in outflows in the week ending March 9.
GDXJ price chart and weekly ETF flows - Chart: Koyfin
Next: Looking To Play The Gold Miner Sector To The Upside? This ETF Offers 2X Leverage